Surprise Lake Camp
Address: 382 Lake Surprise Road Cold Spring, NY 10516
Website: surpriselake.org
If you have questions, call Carmine: 212-725-9635 or Mimi: 917-562-5039
If you have an emergency, the phone number at the camp site is: 845-265-3616

By Train (Very easy and nice ride from NYC)
The camp is about 12 miles from the Cold Spring stop on the Metro North train.
We will have a shuttle on Friday at 6pm to pick you up and Saturday at 10am
If you come at another time, you will need to use the local taxi service (845)831-2400.
Let us know in advance if you are coming by Train!!!

By Car
The camp has plenty of parking available.
Don't forget to check if another camper could use a lift!
Google Map
1.5 hour drive from New York City
2 hours from Long Island
2 hours from New Haven, CT
2 hours from Trenton, NJ
3 hours from Philadelphia, PA

By Plane
Fly into LaGuardia Airport (LGA) or other major NYC area airport. Then take a taxi or bus to Grand Central Terminal in NYC and then use the Train directions above.
Let us know in advance if you are coming by Plane!!!

Packing List
We've prepared a list of stuff to bring to camp: download the packing list pdf

Camp Map
A map of the cabins, lodges and other buildings: download the camp map pdf




Note: Smoking is permitted in designated area. Bring your own wine!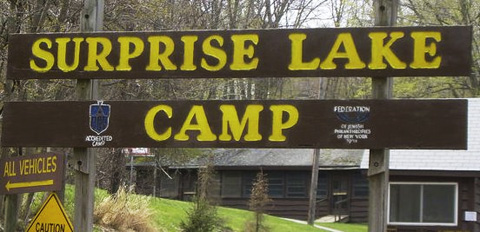 Surprise Lake Camp
View Larger Map